The end of an era…
Friday the 2nd of December 2022 is going to be a special day for all Pokémon fan lovers. On this day the last set of an amazing Sword & Shield era will be released in Japan. The end of an era that brought us so much joy in our collecting hobby and now the questions remains: will Pokémon be able to deliver on or always higher getting expectations? We will have to find out…
On the 28th of October last set named: Vstar Universe S12a was officially released in a Youtube video. Like me most of you probably don't speak Japanese that well but I still found it quite entertaining to watch. For those we want to watch the video on the Official Japanese Pokémon channel, here it is:
What do we know so far?
As most of you probably are not going to play the game I will focus mostly on what kind of artworks we can expect and what's new.
New rarities
Not only new rarities but also amazing artworks, a combination that as a collector I love to see! Two new rarities have been revealed so far:
AR or Art Rare
SAR or Special Art Rare
I guess Pokémon knows that we do really like Alt Art cards, so they've made an entirely different rarity for us. Great job Pokémon! I think Pokémon stated this perfectly:
With the characteristics of Pokemon and
illustrator's personality, you will be drawn into the world of illustration!
Now let's look at some of these cards below.
AR or Art Rares
TIP: click on the cards to zoom in (they are beautiful).
So far only six cards have been released, but there will be probably many more to come. As you can see by the numbering these cards are not included into the main set. I am very curious to see what the difference is between these Art Rares and the Character Rares. As far as I can see right now there is not too much of a difference from a collector's point of view.
SAR or Special Art Rares
So far there have been 4 released Super Art Rares, including fan favourites: Mewtwo Vstar & Charizard Vstar. I think these cards look amazing, I simply cannot wait to get my hands on these beauties and I am definitely curious to see what more is to come.
Set information:
The Vstar Universe is like the Shiny Star V, Vmax Climax & Tag Team All Stars GX going to be a so called: 'High Class Pack'. These sets are usually very sought after, so hopefully the Pokémon Company will make sure to print enough for all of us.
10 cards per pack
10 packs per box* (this is not 100% revealed, but is for sure something that makes a lot of sense)
Release date: 2nd of December 2022
Pre-Order now
*prices are based on current pricing in Japan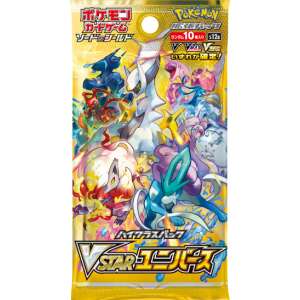 Early conclusion
We are still about a month away but we can definitely say that Pokémon already released some special cards that we collectors love. The Art rarity is definitely something I am personally happy with although I still have to see what the main different is with the Character Rares and Character Super Rares we had in for example: Vmax Climax. Overall it looks very good and the pack art is something that brings back some memories from the Tag Team All Stars GX set.
Let me know your thoughts in the comments below and feel free to provide us with some feedback on our first blog article 🙂
Nick – Fuji Card Shop