It is always a big questions for us at Fuji: what is the price going to do after release? Sometimes prices drop, but sometimes prices also rise. Sometimes we get questions about our pricing and why the prices have gone up or down so rapidly. This question is fair and we like to talk a little bit about this throughout an example of the newly released set Paradigm Trigger S12.
What happened after release?
In a period of less than 2 hours the prices of the booster boxes from Paradigm Trigger went up more than 2.000 yen and eventually even went over the 3.000 that same day. What caused this set to skyrocket so rapidly and when will the price be better?
These questions are always hard to answer but one thing is for certain: every product price is determined by the demand and the supply of the product. Let's face it: if a set sucks the price will usually stay at it's original or go down a little bit, while when a set (like Paradigm Trigger) is very populair prices will go up.
Reasons why this set is populair
There are a lot of reasons why a set can be very populair. In Japan for example sets with a lot of 'cute' / anime-type of Pokémons perform very well. So when a set is very populair in demand in Japan, the set will more expensive elsewhere in the world.
Expensive chase cards
When there are chase cards in the set that are very expensive, these sets tend to be more on the pricey side. The Paradigm Trigger set has currently about 4 main chase cards (based on price).
High demand high / Low supply
Prices will go up when demand is high and prices will even go up more when supply is low. When comparing Japanese sets with the English ones, the Japanese sets usually tend to have a lower supply / less reprints. This usually benefits the value of products and single cards over a longer period of time.
When is a good time to buy?
It is always hard to predict the future. At Fuji we try to always give customers a fair price and excellent service. We will never take advantage of situations that destroy the hobby. Therefore we always try to provide our customers and blog readers with the most accurate information to make the decisions. When a reprint is announced or when it is available we will share this information so that you can make the best purchase decision possible.
Secondly we always give you the option to get notifications when a product is restocked.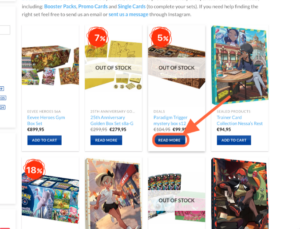 Step 1: go to a product you want
Go to the product you want and press the button 'read more'.
Step 2: Turn on restock notification
Click on the text next to the product that says: 'Click to get notification on product restocked.'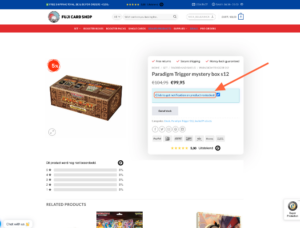 Conclusion
It is always difficult to determine if it is a good time to purchase after release or to pre-order a product. It is clear that demand for this product is very high because there are a lot of great cards including the very populair Pokémon: Lugia. I am also a person who likes to chase the 'big hits' so personally I found the increase to be big, but honoustly it might be worth it with so many valuable cards in there. 
What do you think about the big increase in price from Paradigm Trigger? Any suggestions on how we should deal with this?